Brisbane
Husband and wife team, Kyle & Leticia are walking dogs daily right across Brisbane. Book in by 5pm tonight and we can start tomorrow!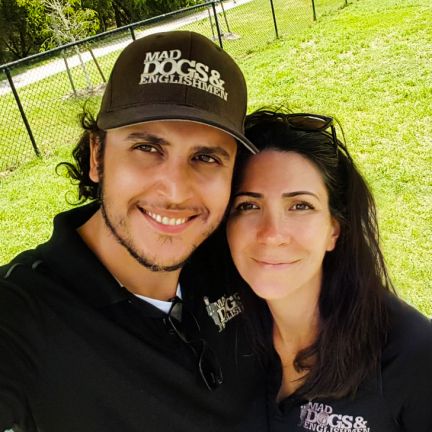 Kyle started working as a professional dog walker for Mad Dogs & Englishmen in Sydney & realised that spending his days interacting with dogs in a positive way with dogs was his dream job. Very quickly after starting work with Mad Dogs Kyle decided that he wanted to start a franchise and pursue a job he loved further.
Leticia, Kyles wife, joined the team shortly after & now both are excited about bringing Mad Dogs & Englishmen, "The Professional Dog Walking & Pet sitting Service", to Brisbane.
"We are enjoying bringing the joy, happiness and quality service we have been providing to the dogs in Sydney, to Brisbane. Mostly, we can't wait to start getting to know the Brisbane dogs, making their days are fun as well as working with them to make sure all the Mad Dogs Brisbane dogs are happy, social, active dogs", says Leticia.
You can book your first walk online by filling out the "register your dog form", or call us now for a chat.
For a Dog Walker in Brisbane look no further!
How to book: Complete the online booking form or call Kyle on: 0420 452029
&lt Find dog walkers in other areas