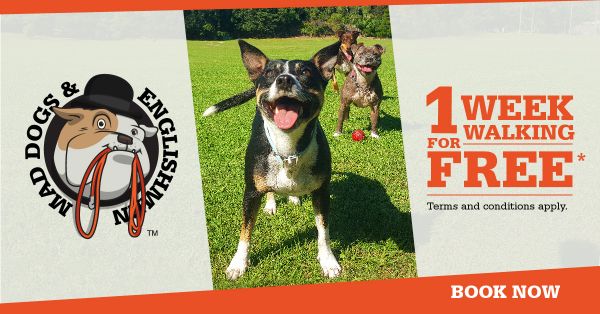 Book by July 31st  & get a week of FREE WALKS.
Terms & Conditions:
1.Once you have met the referral conditions below, your account will be credited with a week of free walks on the first invoice.
2.You must book in a minimum of 2 weeks of walks to qualify for the week of free walks.
3. If there are different amounts of walks each week, the free week of walks will be applied to whichever of the first 2 weeks of walks contains the least walks.
4. You are nor required to book in any more than the initial 2 weeks of walks to qualify for this offer.
5. We retain the right to refuse to walk any dogs that are not suitable to go on the group walks.
6. Only available to dogs living within the Mad Dogs & Englishmen Brisbane Franchise area (see map in areas covered page)